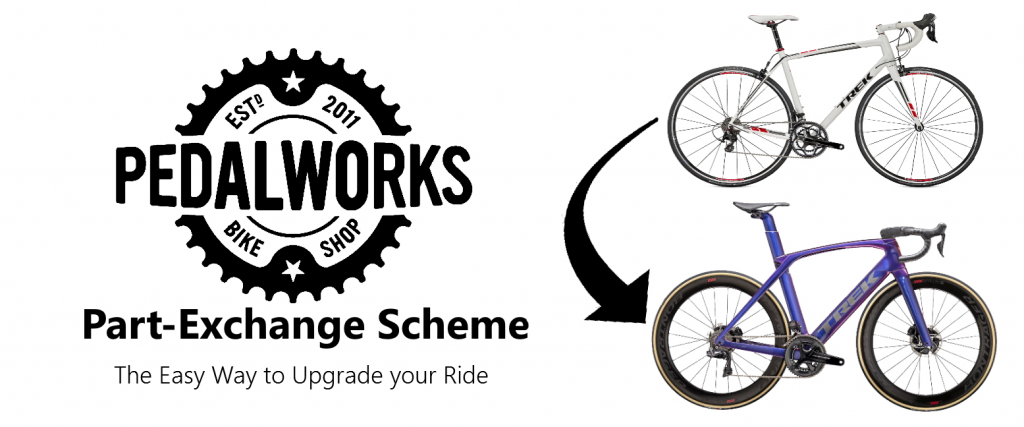 THE PEDALWORKS PART-EXCHANGE SCHEME ALLOWS YOU TO TRADE IN YOUR CURRENT BIKE AGAINST THE PURCHASE OF A NEW BIKE.
We understand that when it's time to buy a new bike, you very often want an easy way to sell your old one. Maybe you can't justify the spend without turning your old bike into cash. Maybe you're running out of space. Maybe you know you just won't ride it anymore and it needs a new home.
We're here to help. With the Pedalworks Part-Exchange Scheme, we take the pain out of selling your old bike, and help you find extra value in your new one.
HOW IT WORKS
When you start talking to us about buying your new bike, tell us you're interested in part-exchange.
To be eligible, your old bike needs to meet the following criteria. It should be:
A road, cyclocross, gravel or mountain bike;
Less than 3yrs old and have had an original RRP of £1,000 or more;
A reputable brand such as: Trek, Specialized, Giant, Cannondale, Frog or Whyte etc.
A frame size of between small and extra-large;
Have no major damage
We'll usually be able to let you know straight away whether it is one we are likely to accept, and give you an estimated value. Don't forget to tell us if you've made changes or upgrades.
Next, drop the bike into the store or book us to collect it when you pay the deposit for your new bike. After a full inspection, we will confirm the price we can pay. The value of bikes that have been maintained and cleaned will be reflected in the price.
If you would like to proceed, we will issue you with a credit to the agreed value against the balance due on your new bike. What could be more hassle-free?
WHY PART-EXCHANGE?
We provide a simple solution which combines a fair price with security, confidentiality and ease-of-use.
No advertising fees
No fees for payment processing
No more waiting around for viewers/buyers who may never turn up
No worrying about payments clearing
No buyers with unrealistic expectations
No bombardment with emails and phone calls
No need to broadcast your contact details online
No strangers visiting your home to inspect or collect
You will deal directly with us here at Pedalworks, and benefit from our customary levels of service and attention to detail. We handle the whole process. All you need to do is provide the bike.
FREQUENTLY ASKED QUESTIONS:
Q: My bike hasn't been serviced recently and may need replacement parts – will you still take it?
A: We will make a case by case assessment. Many parts can be replaced, though this of course will be reflected in the price.
Q: Can I use my credit against other items?
A: Pedalworks offers this service to make life easier for customers when they are buying a new bike. Credit will only given against the purchase of a new bike.
Q: Can I have cash instead of credit?
A: See above.
Q: What happens if you have difficulty selling my old bike?
A: That's our problem to worry about! We just want to see you enjoying your new ride as quickly and easily as possible.
Q: What if in the meantime, I find a buyer for my bike?
A: When we issue a credit against your new bike, your old bike becomes the property of Pedalworks. However, we may use our discretion and return it to you under these circumstances. A charge may need to be made for any expenses we have already incurred, such as servicing or cleaning. Talk to us – our aim is to simply to make it easier to ride the bikes that suit you at whatever point you are on your cycling journey.